If you need help logging in for the first time please see this guide : Telephone Features First Login
Call Forwarding allows you to forward your incoming calls to a different phone number, such as your home office or cell phone. You can also make your primary phone emit a short ring burst, called a "Ring Reminder," to inform you when the call received is a forwarded call. This is important when you have forgotten the service is turned on and you are at your primary phone waiting to receive calls.
Note: The phone number where you forward your calls must be permitted by your outgoing calling plan.
You can also set the phone number to forward using the voice portal or by using the appropriate star code on your phone.
1. Click the Call Forwarding Always link to open the feature's page.
The following page will load: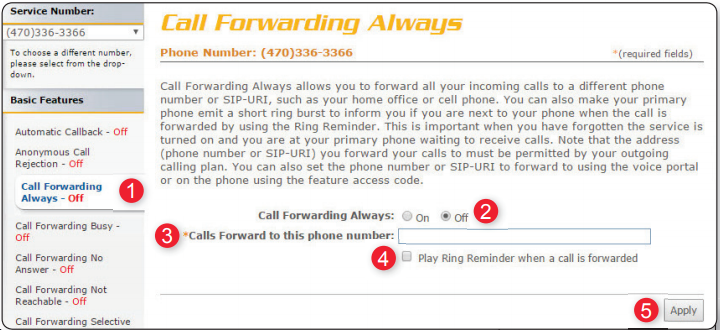 2. Enable or disable the feature by selecting the "On" or "Off" radio button.
3. Enter the number of the telephone where you would like all calls to be forwarded.
4. Select the box labeled "Play Ring Reminder" if you wish to hear a ring reminder when a call is forwarded.
5. Click " Apply" when finished.